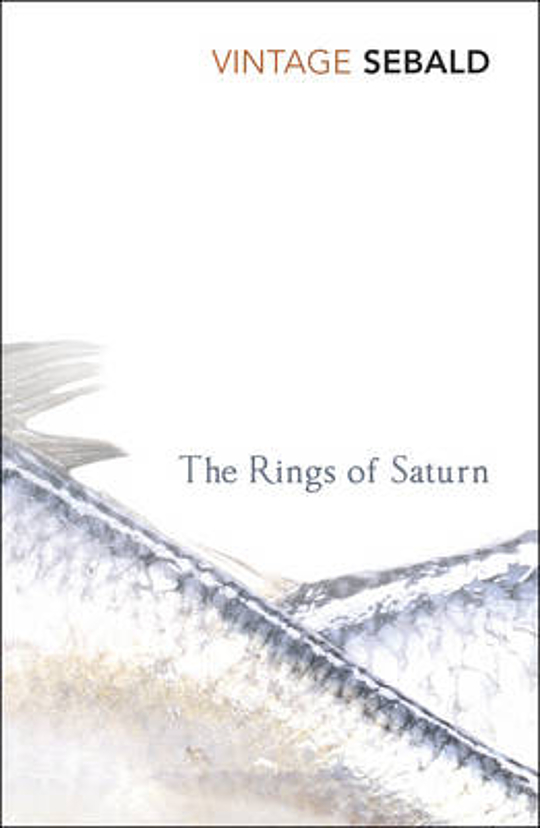 The Rings of Saturn by W G Sebald is a novel disguised as a travel book, recording a walk along the Suffolk coast and inland to Norfolk but also documenting local culture, the interplay between people and landscape, and how transient life is. I read Sebald's Vertigo a few years ago and loved it, and have wanted to read more by Sebald since.
We recently visited friends who have moved to Suffolk and built their own house. While we were there, we visited Orford Ness – a place that I wanted to visit after reading A Fearsome Heritage and one of the locations in Bollocks to Alton Towers. The person who lent me A Fearsome Heritage has now lent me The Rings of Saturn because Orford Ness is one of the coastal locations Sebald documents in its pages.
In the opening chapter, the narrator who is also called Sebald is recovering in hospital from an unspecified ailment and reflects on all manner of things from Kafka's Metamorphosis, and the writers Charles Ramuz and Gustave Flaubert to Thomas Browne, Rembrandt's The Anatomy Lesson and Grimmelhausen's Simplicius Simplicissimus. Much of it went over my head, so stymied is my brain at the moment. The gist that I gathered is that everything is transient, not always as it seems, and we layer meaning onto our surroundings and experiences in order to give ourselves a sense of continuity. Nature is a "continuous process of consuming and being consumed [and] nothing endures."
Oh.
Sebald's account of his walk starts in Chapter Two, and I found this a much more immersive read from the off, with Sebald describing a train journey that felt familiar, despite my never having travelled the same line.
It was on a grey, overcast day in August 1992 that I travelled down to the coast in one of the old diesel trains, grimed with oil and soot up to the windows, which ran from Norwich to Lowestoft at that time. The few passengers that there were sat in the half-light on the threadbare seats, all of them facing the engine and as far away from each other as they could be, and so silent, that not a word might have passed their lips in the whole of their lives.
I could hear the pounding chug of the diesel engine on the brief inclines, the silence on the gliding declines, could imagine the very British atmosphere in the carriage of everyone trying to maintain their anonymity and seclusion in an enclosed public space. It's an anonymity and seclusion echoed in the sight of fishermen lining the Suffolk shore past Lowestoft in the next chapter, and in my own gazing through windows when my tiredness requires me to turn away from the world.
Sebald the author was German, but, at the time of writing this book, had lived in England for a quarter of a century, first in Manchester and then in Norfolk. Through his narrator Sebald, he reveals the ghosts of the past present in contemporary locations with warmth and curiosity. He presents the knowledge he has acquired through research in a conversational way, interesting and interested, wanting to share his knowledge and his delight in it. As with Vertigo, The Rings of Saturn made me want to go on a walk with Sebald.
I enjoyed his perspective on the shabby remains of a once glorious and fêted period in the existence of a stately home called Somerleyton; a palace to Victorian engineering and the riches it brought its owner, written about with awe and wonder by its contemporary visitors, Sebald captures a sadness about the remnants on display, and about the clinging to the past that they represent. Sebald has a grasp on how history is important but shouldn't be taken as a home for which we are nostalgic, rather it should be the place we have left and the context for our present and future. It's a perspective that I try to imbue my own practice with – the past shows us how we got to where we are and is something to learn from so that we ensure our future is better. I find it difficult to understand people who revere the past and somehow want to return or remain there.
In his depiction of Lowestoft, Sebald also captures the sadness of a place that experienced a short moment of resurgent economic prosperity in the years that the North Sea oil rigs were built, only to be reduced to a wretched unemployment blackspot in the financial crash of 1991. We have travelled through another financial crash since then and are in the process of entering yet another. Some might say that this is because we hanker after a past that no longer exists, while refusing to learn from it to build a better future.
When Sebald passes that line of fishermen on the shore beyond Lowestoft and ruminates on why they don't catch anything, my heart sank at the description of the heavy metals, fertilizer and pesticides dumped into the North Sea at the time Sebald was writing. One of the many egregious things the current UK government has done is permit water companies to discharge higher levels of raw sewage into the sea. It's supposed to be in exceptional circumstances, but a report published in June, co-authored by Sir Chris Whitty as Chief Medical Officer for England, states that it is no longer exceptional, within 9 months of legislation to make it illegal being voted down by the Conservative government.
Sebald walks to Southwold, a coastal town I've visited. Here he gazes out to sea and recalls a night spent just across that sea, in The Hague, where his culinary options saw him buying chips in McDonald's. His depiction of it, referring obliquely to his location, delighted me. "No longer able to decide on a place to eat, I bought a carton of chips at McDonald's, where I felt like a criminal wanted worldwide as I stood at the brightly lit counter, and ate them as I walked back to my hotel."
Elsewhere, the Southwold chapter is about absences and how history, geography, politics often obscure or make small the people who inhabit and are touched by them. We see the effects that people have on the world, but we often don't know who they are. How could we? There are so many people involved in most of the stories from our collective lives. We foreground those who are perceived as remarkable in some way, good and bad, or choose the moments that, in their detail, epitomise a bigger story. Sebald also considers the absence of the minutiae from the stories we tell through his interaction with the log of a First World War patrol ship called the Southwold. Each time he visits the Sailors' Reading Room in Southwold, he leafs through the pages. "Every time I decipher one of these entries I am astounded that a trail that has long since vanished from the air or the water remains visible here on the paper."
Still in Southwold, the following chapter concerns itself largely with the entwined stories of Joseph Conrad and Roger Casement who met briefly in what was then referred to as the Congo. Conrad went on to write novels about the awful things he saw there and in other countries he travelled to in his maritime career, Casement became an early proponent of human rights in the Congo, Peru and Ireland. His advocacy against the inhumane treatment of Black labour in the Congo and the decimation of South American tribes earned Casement accolades and social elevations that failed in their intention of shutting him up. Born in Ireland himself, Casement's advocacy for Irish Home Rule and subsequent involvement in attempting to set up an Irish brigade in opposition to the Ulster Volunteers in the period of the Easter Rising earned him a charge of high treason and death by hanging. Later in the novel, Sebald returns to the Irish Civil War of the 1920s via a stay with a gentry family fallen on hard times, whose Irish landholdings were made almost worthless by the Troubles. As ever, Sebald passes no judgement, and perhaps some might feel sympathy or pity for the English landowners whose properties were attacked by the Republican activists and whose income streams were reduced thanks to the twin consequences of civil war and crop failure. I didn't.
Sebald's encounters in Suffolk often send him spinning off into world history. Following the path of a bridge over the River Blyth between Southwold and Walberswick, the narrow gauge railway it was built for and the locomotive that may or may not have been built for a Chinese child emperor, he tells a story that is a history lesson about intrigue in the Chinese court, how Britain came to temporarily occupy Hong Kong, and the sacking of an entire city by the British army. Sebald has a habit of almost casually dropping the brutality of nations into his narrative. There are hints that their connections to the present day are at the forefront of his mind, but no explicit connections are made. Here, the handover of Hong Kong's governance back to China wasn't too far in Sebald's future. In the previous chapter, he mentions the brutal 'cleansing operations'of the Croatian forces during the Second World war, writing at a time when more cleansing operations were happening in the Balkan wars that broke up Yugoslavia.
Walking on from Walberswick to Dunwich, Sebald is fascinating on the loss of this once thriving port with global connections thanks to the erosion of the sea. I have long wanted to visit Dunwich. Its history intrigues me. During the middle ages, it was one of the most important ports in Europe, boasted fifty and more churches, as well as monasteries, convents, hospitals, shipyards, windmills and more. As Sebald tells us, "All of it has gone under, quite literally, and is now below the sea, beneath alluvial sand and gravel, over an area of two or three square miles." He captures the terror of nights when the stormy sea sucked away the land and the dead, leaving the living unable to do anything but move further west. He then goes on to draw parallels that are still relevant today between erosion and deforestation. The cutting down of the dense forests that covered Britain after the Ice Age, to free up land for cultivation, started the steady decline that we are still enduring now. Added in to that was the felling of trees to burn as fuel for the industrial revolution. Deforestation happens on a global scale, and all in the service of humanity's alleged progress. I hadn't thought about it in the way Sebald frames it before. "Combustion," he says, "is the hidden principle behind every artefact we create. The making of a fish-hook, manufacture of a china cup, or production of a television programme, all depend on the same process of combustion." We want more and more things, and so we need to burn more and more trees, coal, oil, gas to make them. I found that really sobering.
Equally sobering, but more familiar to me, is the encounter Sebald has with a Dutch sugar beet farmer, whom he names as de Jong but is probably imaginary. He is looking for a sugar beet farm to buy in Suffolk and in conversation awakens Sebald to the fact that the largest sugar dynasties, Tate in the UK, Maurits in the Netherlands, used art to cleanse their slave-built fortunes.
The capital amassed in the eighteenth and nineteenth centuries through various forms of slave economy is still in circulation, said de Jong, still bearing interest, increasing many times over and continually burgeoning anew. One of the most tried and tested ways of legitimizing this kind of money has always been patronage of the arts, the purchase and exhibiting of paintings and sculptures, a practice which today, said de Jong, was leading to a relentless escalation of prices paid at major auctions. … At times it seems to me, said de Jong, as if all works of art were coated with a sugar glaze or indeed made completely of sugar …
Yesterday's sugar is today's petrochemical industry, with oil and gas exploiters attempting to cleanse their exploitation of poorer countries and their impact on the climate through sponsorship of the arts and sciences. We are in an age where the notion that redemption can be bought through philanthropy once more has currency. It differs from the Victorian era only in that the philanthropists aren't attempting to buy their way into heaven, but simply want to salve their consciences a little or buff up their personal brand.
Sebald accompanies the Dutchman inland to Woodbridge, where he stays for a day or so with the gentry family who don't know how to exist in the world now their money, land and servants are gone, before continuing his walk to Orford. It's a walk that takes him four hours, and passes through the former grounds of manor houses, a landscape of pastureland reshaped by the hunting parties the lords of those manors once hosted in the 19th and early 20th centuries. Hunting has had a resurgence and is big business again but, talking to our friends about it, no longer involves rearing the prey on the estate, at least as far as pheasants are concerned. Rather the birds are imported in their millions to feed the market for recreational killing. As long as avian flu doesn't interfere, that is. The League Against Cruel Sports reported in 2018 on figures obtained from DEFRA that put the number of imported birds that year at more than 27 million. That's 40% of the UK population in the same year. All for the titilation of a very rich few.
In thinking about hunting, Sebald also thinks about the estate at Bawdsey of the business man Sir Cuthbert Quilter, a man who made his fortune in industry and built himself a palace where he entertained the great and the good, and about the decline of Shingle Street, another place that I would like to visit, that was once a spa town. His walk takes him through neither place, but their proximity and connection to his destination of Orford mean his attention turns to their military history, stretching from the Martello towers of the Napoleonic wars to the development of radar at Bawdsey and the possible testing of biological weapons at Shingle Street during the Second World War. From there, it's a short hop to the Cold War era and the testing of rockets and long range radar at Orford Ness. Sebald recalls "standing down by the harbour when I first visited Orford in 1972 and looking across to what locals simply called "the island", which resembled a penal colony in the Far East."
I stood at the harbour in Orford recently waiting for the ferry to Orford Ness, which is now a National Trust nature reserve and visitor attraction.
The Ness still looks like a penal colony somehow, and the roofs of the ballistic testing structures known as the Pagodas are among the buildings the eye can see on the horizon. I loved visiting the testing sites and other remaining buildings. The National Trust decided not to try to refurbish anything, instead allowing much of the built environment to continue its crumbling decline. It makes for an eerie and enigmatic place.
I loved the atmosphere and the starkness of the landscape. Some of the buildings are now so dilapidated that you can't go near, let alone inside them.
Others are open but uninterpreted.
A small cluster have minimal interpretation inside to explain, as far as it's possible to explain, what went on in them. I spoke to one of the volunteer rangers about one mysterious structure and he told me that nobody knows how it was used, they can only guess.
He also talked about a visitor whose uncle had worked at the site and never spoken about his work there because it was still classified, and how each person had a specific job and didn't know what any of their colleagues' jobs were, so that they couldn't share the full picture with anyone else. The colleague who lent me The Rings of Saturn worked briefly on Orford Ness supervising Master's students making field recordings. They stayed on the island for up to three days at a time. One of the MA students he supervised created this work. More recently, the Artangel project worked with artists on an installation called Afterness. The work of two of the artists was on display when we visited last month. Ilya Kaminsky's I See A Silence is a sound installation inside the Black Beacon that I found most affecting as I climbed the stairs in the building and looked out through the viewing slots at the top.
I was slightly jealous that Sebald got to have a totally uncurated visit to Orford Ness, ferried over by a local boatman and free to wander alone and unrestricted. Our visit was eerie enough and felt a little like we were on a different planet. Sebald describes it as "passing through an undiscovered country", imagining himself "amidst the ruins of our own civilization after its extinction in some future catastrophe".
I still remember that I felt, at the same time, both utterly liberated and deeply despondent. I had not a single thought in my head. With each step that I took, the emptiness within and the emptiness without grew ever greater and the silence more profound.
I was slightly worried for him, too, though, given the number of signs that we saw, installed by the National Trust and thus unavailable to Sebald, warning visitors not to stray from the path for fear of triggering some buried unexploded ordnance.
Returning by ferry to Orford and his walk, Sebald catches a bus inland from to Yoxford and then walks to visit a local character who has made it his life's work to build an accurate scale replica of Herod's Temple of Jerusalem. In the book he is called Thomas Abrams. In reality this character is likely based on Alec Garrard. I liked what Sebald has Abrams say about work, ideas, the passage of time and how we have to constantly change and adapt.
In the final analysis, our entire work is based on nothing but ideas, ideas which change over the years and which time and again cause one to tear down what one had thought to be finished, and begin again from scratch.
At times, Abrams tells Sebald, it can feel as though nothing will ever be finished and everything done so far a "wretched waste of time". At others, our perspective broadens and we are able to see the whole, and with it a sense that everything is done after all. There are times, in work and out, that my own perspective is too narrow, too mired in the minutiae. I need to remember to step back and gain a wider perspective, and remember that very little of what troubles me in the moment matters in the greater scheme.
Sebald's journey ends on a melancholy note, recalling the impact of the great storm of 1987 that left permanent scars on the south east. For Sebald, the greatest loss was the mature trees, the environment they shaded, and the wildlife they homed. He talks particularly movingly of the loss of birdsong and the silence left behind. That made me recall the way the birds seemed louder in my urban environment during the early days of the pandemic, when we couldn't leave the house and human traffic's undersong disappeared. Where our friends live in Suffolk is rural enough that birdsong is the undersong, and a passing car the unusual sound.
The final chapter returns to Thomas Browne and his Borgesian catalogue for an imaginary library of books, illustrations and antiquities. One of the items is a bamboo cane that two Byzantine friars from Persia used to bring silkworm eggs from China to Europe. Silkworms are alluded to throughout The Rings of Saturn, from the Chinese empress who cared more for her silkworms than her own child to the shabby genteel gentry family who thought they might farm silkworms to shore up their finances, but here at the end Sebald goes into greater detail about their importance in world history, from China to Greece, Greece to Italy, Italy to France and France via the expelled Huguenots to Norwich. He touches on Germany's abortive attempt to over-engineer the rearing of silkworms and the Nazi regime's use of the same as a teaching opportunity in how to remove the impure and prevent racial degeneration.
He closes with a reflection on death and the use of silk ribbons covering mirrors and paintings to deflect the departing soul from being distracted on its final journey.
This is a beautiful, reflective, timeless book. I might need to acquire my own copy, as I would like to read it again. As I was reading, links to other books I've read suggested themselves, not just the obvious, such as Borges, but more recent reading. Adam Scovell's Mothlight, the climate catastrophe novel I read previously, Goldilocks, Tom Cox's 21st-Century Yokel and Ring the Hill, and Empress Orchid by Anchee Min. It has also made me want to read Simplicius Simplicissimus.
Read 05/10/2022-15/10/2022
Rating 5 stars
A borrowed book that isn't in my backlog.