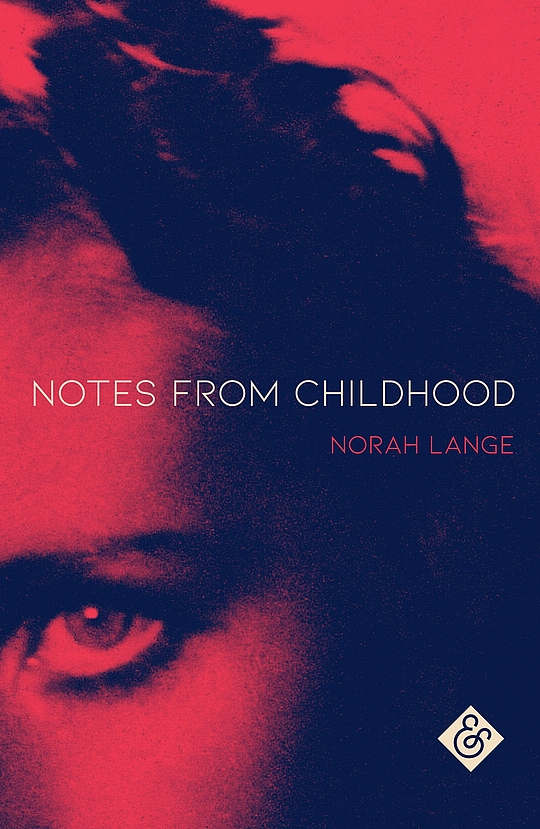 Notes from Childhood is Norah Lange's memoir of her childhood, published in Charlotte Whittle's English translation by And Other Stories in 2021. I chose to substitute it for one of my original 10 Books of Summer as I wanted to read it for Women in Translation Month.
I don't know much about Norah Lange, other than she was part of the same Buenos Aires writing circle as Jorge Luis Borges. And Other Stories published a translation of her novel People in the Room, also with Charlotte Whittle, in 2018.
Lange's memoir begins in 1910, when she was around five years old and the family left Buenos Aires for their estate in Mendoza. It documents her observations of the world and her family, with some fictionalisation here and there.
According to the biography in this edition, Notes from Childhood was Lange's first literary success. In her Translator's Note, also available on LitHub, Whittle explains that "Lange's memoir was successful and enduring … because it allowed readers to identify the unconventional Lange with the traditionally feminine subjects of domesticity and childhood," paraphrasing Sylvia Molloy's analysis of Notes from Childhood in At Face Value: Autobiographical Writing in Spanish America.
I've read a few childhood memoirs over the years, my favourites being Marcel Pagnol's pair La Gloire de Mon Père and Le Château de Ma Mère, read in French at school and in English as an adult. In recent years, I've read Tove Jansson's Sculptor's Daughter and Aeronwy Thomas's My Father's Places, both memoirs of growing up as the child of creative parents. Lange's memoir is a series of vignettes rather than a narrative account, but has some common ground with the works by Pagnol, Jansson and Thomas in the movement between urban and rural places and the slow transformation of a child into an adult.
The Lange family was a wealthy one. Lange's Norwegian father was an explorer and cartographer. When he wasn't off mapping the rivers of South America, he was writing in his study, and literary and philosophical types would often gather in the Lange family home. Young Norah was an avid eavesdropper and observer. She sketches portraits of her parents, with most of her affection going into her descriptions of her mother, as well as of her four sisters, her younger brother and some of the people who lived in poverty around the estate. I struggled with the aloofness present in Lange's interactions with and reflections on her poorer neighbours. One such depiction, of a man whose wife dies from tuberculosis and who is reduced to asking at the villa for a safety pin to fasten the collar of his shirt, provokes the feeling in Lange that, "It seemed dreadful that he should ask for nothing more than a safety pin." The piece ends with the line, "I believe no case of poverty has touched me so much since then." There was something disgusting to me in this phrase, delivered as though poverty and its effect on Lange was an abstract notion that could be measured on some kind of scale and still not compel her or her family to feel as though they should do anything to address it. Perhaps her father did help out, without his daughter realising. Later, when her own family enters its own version of poverty, Lange talks of it as though it is a game. Of course, poverty when you're wealthy means mortgaging your estate and selling parcels of land so you can keep your town house going, even if you can't eat properly.
While Lange's memories of early 20th century Argentina are interesting for the way they capture a particular way of life, there was something self-satisfied in the tone of Lange's recollections. It reminded me of the world captured by Nancy Mitford in Love in a Cold Climate and The Pursuit of Love – high handed, unsympathetic, protected from the reality of life for those less privileged.
Lange depicts the cruelties of childhood, too; the teasing and games wrought from boredom. She recalls being a boyish child and the whole family gathering one day to dress her in a boy's suit, ordered specially for the joke. She tells of the second oldest sister devising a game that boiled down to the torture of a herd of goats, another game involving paper hats and a breeze that would determine which of them would die first, and a trick played on the third oldest sister to convince her that a leaf she swallowed as a baby would grow as a tree inside her unless it was reunited with a tree from its species on the estate. It's a macabre world. All children are cruel at times in their play, but this memoir strengthened my feeling that children of a particular class are less fettered in expressing their cruelties, maybe because they have more time on their hands and more boredom to counter, maybe because they're not encouraged to develop empathy with others. I think, perhaps, the last dozen years of being governed by people from the same class and witnessing their casual cruelties towards the rest of society, means I don't find depictions of upper class life particularly charming, no matter how luminous and exquisite, as the praise quotes on the back of the book put it, the writing.
It is beautifully written, I agree with the people quoted. Some of the stories are amusing. Others are poetic, such as the memory of trying to tell each other's hands by touch under a blanket on a carriage ride, and Lange's recollections of the process of growing up and starting to better understand the world and the adults in it have charm and poignancy. Her description of her father's sudden death when she is ten is particularly poignant. For the most part, though, I found the vignette style unsatisfying. I wanted more of a narrative, something similar in style to Pagnol's memoirs, that stitched together the brief reminiscences into a more coherent whole. But then that is me denying Lange's aesthetic. The Translator's Note provides analysis of what Whittle perceives Lange's aesthetic to be. In one of the vignettes, Lange describes a game she played with herself of positioning her body into shapes that would fit inside the profiles of the many visitors to her parents' house – an attempt to see these people from the inside and become one with them. In another vignette, she talks of her pastime of cutting words from newspapers that she found visually pleasing. In some way, the collaging of vignettes and the shaping of multiple momentary narratives are the literary form of her childhood pursuits. It's no surprise that Lange was influenced by Dada, whose absurd photomontages undermined the notion that photography was an accurate record of the world. Similarly, Lange's memoir, with its collage style and its changing of the reality of her childhood, from the names of her sisters to the gender of one of the siblings who didn't survive infancy, undermines the idea that a memoir is reliable and accurate.
While I can appreciate what Whittle writes about the inventiveness of Lange's prose style at the time she was writing, and I can also appreciate Lange's importance as a female writer on a male dominated literary scene, 85 years on her memoir didn't really engage me. Perhaps, if I knew more about Lange and the adult personality that the childhood captured here led to, it would have had more resonance. That sort of knowledge and curiosity about a person in the public eye is what usually leads me to read their memoir. It seems that the opposite way round doesn't work for me so well.
Read 31/07/2022-04/08/2022
Rating 3 stars
Book 8 in my 10 Books of Summer, and also read for Women in Translation Month.